Alexandra Siek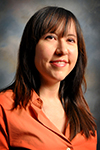 Public Services

Senior Lecturer

(505) 277-0089
Office 3329 B
siek [at] law.unm.edu
---
Education
B.A. 1999, Lake Forest College
J.D. 2005, University of New Mexico School of Law
M.L.I.S. 2012, San Jose State University
Profile
Alexandra Siek is the Public Services Coordinator for the Law Library. She oversees the Reference Desk, provides faculty research support, teaches Legal Research, and coordinates the Library's guest lectures.
Before joining the UNM Law Library faculty, Professor Siek performed Crime and Intelligence Analysis for the Los Angeles Police Department and worked in Faculty and Public Services for the University of New Mexico School of Law Library as a Manager of the Research Pool as well as performing Reference and Collection Maintenance services.
Community Engagement
American Association of Law Libraries (AALL)
Southwestern Association of Law Libraries (SWALL)
UNMSOL Academic Success Committee
UNMSOL Kellogg Program Committee
---
Publications & Contributions
Academic & Professional Journals
Executive Summary of Reciprocity, Sup. Ct. St. N.M. (2013). Co-authored with Barbara Lah, Daniel Marquez, and Patrick Redmond.
Presentations
Summer Research Series: Research Methods for Summer Internships (5 Videos, 2017).

Federal Statutes, Regulations, and Related Federal Materials, New Mexico Public Education Department Staff (2016).
Information Connections: New Mexico Legal Research Resources Statewide, New Mexico Library Association Conference (2015).